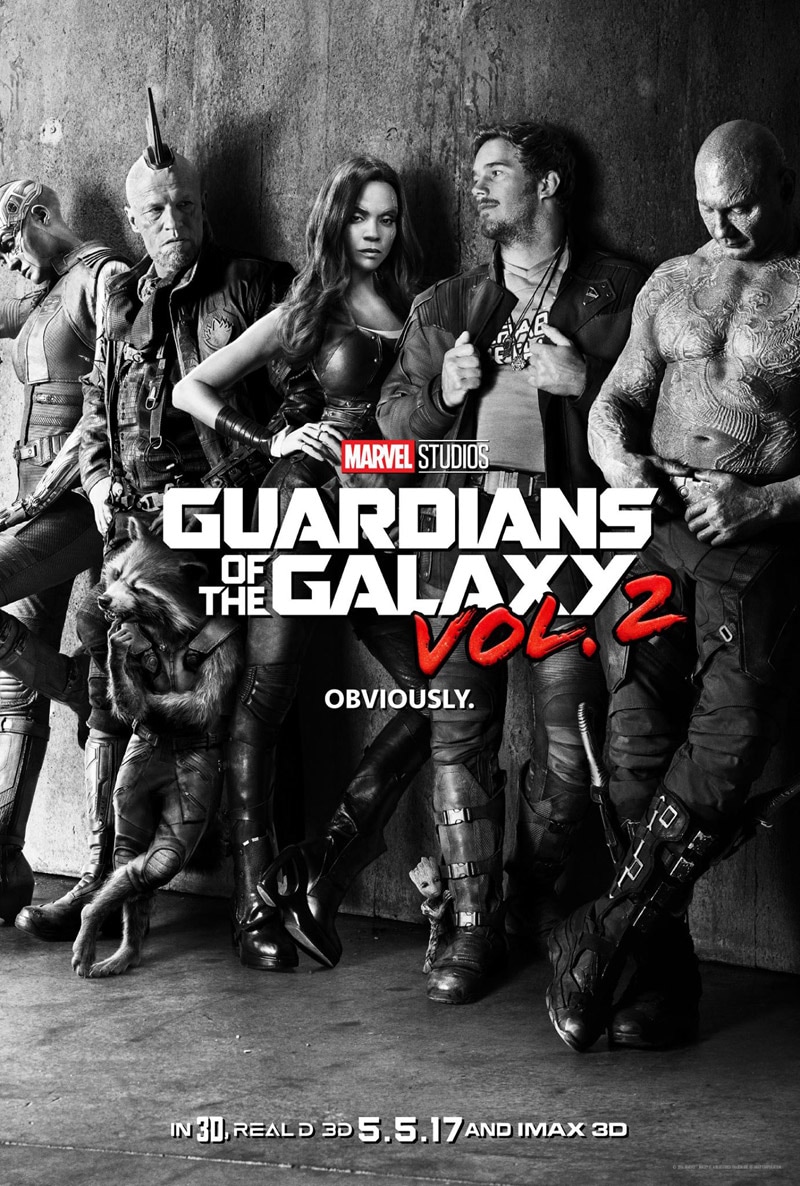 TL;DR - It's fun, go see it. Let it make you laugh.


The first Guardians of the Galaxy was the most fun I'd had in a movie theater since 1999. I just sat in gaping amazement and wonder. I loved the world. I wanted to live in it. I wanted to BE Peter Fucking Quill. It is one of my top 5 movies of all time. Sure, it has flaws* but none of them detracted from the movie for me.

So the stakes were high for the sequel. As much as I tried to manage them, I was afraid the sequel would disappoint me. And the good news is, it did not disappoint. I just want to keep watching these characters have adventures for as long as Bautista, Pratt and Cooper want to make them.

The sequel is more of a comedy, detached almost entirely from the larger Marvel plotlines and it feels like it's targeting a younger audience. It works very well as a stand alone movie, even if you haven't seen the first film, the relationships between the characters is clear from the very beginning. It isn't as much of an action movie as the first movie, there is action in it but it's not the focus. Literally, from the first scene, the movie makes that clear. The first action scene with the Guardians verses a huge tentacle monster is shown in the background and out of focus as we follow Baby Groot as he dances around to Mr. Blue Sky. It's telling you right up front what kind of movie this is going to be.

Plot:
The main story point here is finding out who Peter Quill's father is, there's a pair of secondary plots dealing with Yondu (blue arrow whistling guy) from the first movie and a new faction of Great Golden Ones called the Sovereign.
Basically, the Guardians are hired by the Sovereign to fight a space monster and keep it from devouring special valuable batteries. The monster is defeated but Rocket steals a bunch of of the batteries and the Sovereign send an army of space drones to destroy the Guardians. They are saved by Peter Quill's father, who turns out to be a Celestial named 'Ego', who basically is a living planet that can incarnate into Kurt Russell. Because if you could, wouldn't you?
Ego takes Peter, Drax and Gamorra to his planet and they meet a cute antenna-wearing alien named Mantis, who is cute and empathic. Ego seems to regard Mantis as a pet who can help him sleep with her powers.
Meanwhile, the Sovereign hire Yondu's Ravagers to capture the Guardians to bring back for execution for theft and rudeness. However Yondu isn't interested in catching Quill, when Yondu's crew discover this, he's deposed in a mutiny. Rocket and Baby Groot escape with Yondu, killing all the Ravagers in return. They rejoin the rest of their friends on Ego's planet to discover all is not well.
Because Ego, despite seeming to legitimately love Peter's mom and wanted to be a father to Quill - especially when he discovers that Peter has the Celestial genes - has a purpose. And that is to spread to cover all the planets in the galaxy, to make all life....him. To do that, he needs the power of two Celestials, which means him and Peter. However, due to the distracting power of cute girls from Missouri (which is a real thing), Ego put the tumor in her head that kills her, so he wouldn't be tempted to forget his purpose and age and die on Earth.
When Peter finds out about Ego's action, he attacks him. And, with the help of his friends, they manage to blow up Ego's brain at the center of the planet.

Themes:
First of all, the Guardians of the Galaxy vol 2 aims to entertain. It's meant to be fun. It is a light hearted movie...with murder and cancer and child abduction...you know for a movie with poop jokes, it's got a serious dark side. But most of that is only there if you think about it and the movie first and foremost wants you to laugh. The jokes come fast and furious (see what I did there?), and basically every word out of Drax's mouth is hilarious. The colors are bright and vivid and beautiful. And, strange as it may seem, the goal of a superhero movie to make you feel positive emotions....isn't universally embraced. *cough*DC*couch* But there's no political allegory here, no religious axe to grind, it's not divisive or about anything except having fun and...well...loving your family.
Family is a popular movie theme. Almost too much, so. If you had a drinking game where you took a shot of Patron every time someone said 'family' in the latest Fast and the Furious movie, you'd die. But I will say that the Guardians of the Galaxy does this theme well. We see Peter's mother die in front of him, with Peter refusing to take her hand when she asks him. Then he gets abducted by Yondu and separated from everyone else he knows. That and him never knowing his father means that he has, in the actual text of the movie, some pretty strong desires to have a family and to know his father. So I'm glad they didn't shoot this theme in the first movie.
Likewise, the 'C' or 'D' plot in Guardians 2 is Gamora and Nebula, how they never treated each other like sisters. But that both wanted that, apparently. It's probably the weakest part of the movie but it stays with the theme.
It's said pretty explicitly that the Guardians are a family, not just for Peter but for each other. Drax had a family but lost it to Ronan. Gamora was raised in a survival-of-the-fittest environment overseen by the mad titan who slaughtered HER family. Rocket was created in a lab by scientists that didn't give a trash panda's crap for him. Groot seems to be the only one of his kind. All these survivors banded together in the first movie and in the second movie, those bonds are even stronger. It's almost a 'ever after' movie, where we see what happens after the happy ending of a story. And just like in real life, families aren't always easy or comfortable or peaceful. What they are, at least in this movie, is THERE. Family shows up. Family cares. And, in the end, that includes Yondu. Which surprised me, in a good way.
Finally, under the layer of giggles and rainbows, there are some pretty dark things here. Baby Groot kills a guy and cuts off someone's toe. Sure, both were 'funny' but it does but a little spin on things. You see a Ravager get spaced while his killers taunt him as he dies in vacuum. Yondu and Rocket massacre dozens of the mutinous Ravagers. Ego has been killing what looks like hundreds of his children AND he gave cancer to the woman he loved. Yondu had been trading in children, bring them to Ego, for years. Space hookers. Howard the Duck exists.


What worked:
Let's start with Yondu. Silly as he may look and silly as that arrow may be to some people, Yondu's character arc worked for me. One of the antagonists in the first movie, he gets unexpected depths and is capable of surprising tenderness and self-sacrifice. He isn't a nice person and he says that he's 'never done anything right' but he has a right end. And he's been protecting Peter for most of his life, even if that life isn't what it could have been back home, it's better than bring turned over to someone who might just kill him for not carrying the right genes.

The humor. I laughed a lot during this movie. Humor is subjective, but there were many quotable jokes and situational hilarity. Some were revealed in the trailers but I don't know anyone, even people who say they didn't like the movie, who didn't laugh while it was playing.

The universe. The Marvel cosmic universe is large, strange and dangerous. And it looks like a hell of a lot of fun. From robotic brothels to gold-tinted arrogant supremicists, the more we see, the weirder and cooler things get. Until someone can be both a planet and a floating space brain and Kurt Russell and it doesn't seem impossible.

The emotion. Because despite the silliness and jokes and weirdness, what grounds me is the characters. They feel real. They have real emotions and those feelings matter to them. Some carry their pain stoically, like Drax. Some use it to push others away, like Rocket. And some are just angry little trees who are too adorable to kill.

The characters. The performances here vary from incredibly good to good enough. But we get to learn more about these people and we learn it mostly by seeing them interact with each other. There's less exposition here than in the first movie and though things are spelled out explicitly at times (which is useful when you're trying to appear to a broad audience that doesn't always notice subtle things), mostly we learn by what we're shown. We see Peter trying to deepen his relationship with Gamora..or start one. And we see that even Gamora is a little more light-hearted than her angry demeanor suggests. Even the least developed character, Baby Groot, is an entertaining and ultimately useful member of the family.

What didn't:

Gamora. I won't go as far as some critics and say she doesn't have a vagina (seriously Max Landis?) but her reluctance to show interest in Peter is wearing thin. In the first movie, she at least seems tempted and in here, she even dances a few steps with Peter, but on the whole she's the weak point. She's almost a mother figure, the humorless one who is trying to get everyone to behave. And that gets old. Zoe Saldana isn't a great performer, she can be wooden and her character acts about as sensual as a concrete block. You want to tell Peter to move on and hook up with the Golden One after all. She at least seems interested in some pelvic sorcery.

Nebula. I like the look of the character but the performance is almost always one-note. Though, ironically, she comes closer to the dangerous sensuality of the comic book version of Gamora in some scene. But her whole desire to kill and then befriend Gamora is just too abrupt. She didn't ruin the movie but she needs depth, more than just someone new she wants to kill.

Lazy storytelling. Although the plot hasn't been the strong suit in either movie, at least the first Guardian's movie was clear. There were very few hand-waving coincidences compared to this movie. From convenient rising pillars in Ego's core, to being able to fly into a planet via blasting to Ego's brain apparently being unable to deal with a bomb despite having complete control over all molecules near him...there are plot...conveniences here. Sadly, some could have been fixed with just a minute or two of screen time. Just give Gamora and Nebula flight disks. Or explain tell us that Peter is able to distract Ego from being able to use all his powers while they're fighting.

The turd joke. Yes, I laughed, both times. But c'mon. You don't need to go there, James Gunn.

Summary:

Primarily a sci-fi comedy about family, there are both darker events and more subtle storytelling at work here than you might give it credit for at first. It rewards re-watching. If it falls short of the first movie, it doesn't shame it or itself.

Recommended.


*So does Gone with the Wind, The Treasure of Sierra Madre and just about every movie every made. Except maybe Casablanca...maybe.